Brasil, Mexico & Central America
AB Brasil is a market-leading bakery supply company with a well-earned reputation for innovation and reliability. AB Brasil's two key brands are Fleischmann and Mauri and they offer a wide range of ingredients under each brand through an outstanding distributors network. AB Brasil creates value for bakers both large and small throughout Brasil and also markets a dynamic product range for the 'bake at home' consumer.
AB Mauri Mexico is one of the most important bakery ingredients suppliers in Mexico. Our talented team is continuously working on offering our customers the best solution according to their needs. We use the global network and the local expertise to make our customers business successful in their markets (craft, mechanised or in-store-bakery). Our facilities in Veracruz and Puebla are committed to offering the highest performance on each of our products commercialised around Mexico, Central America & the Caribbean.
www.fleischmann.com.br
www.mauri.com.br
www.fleischmann.com.mx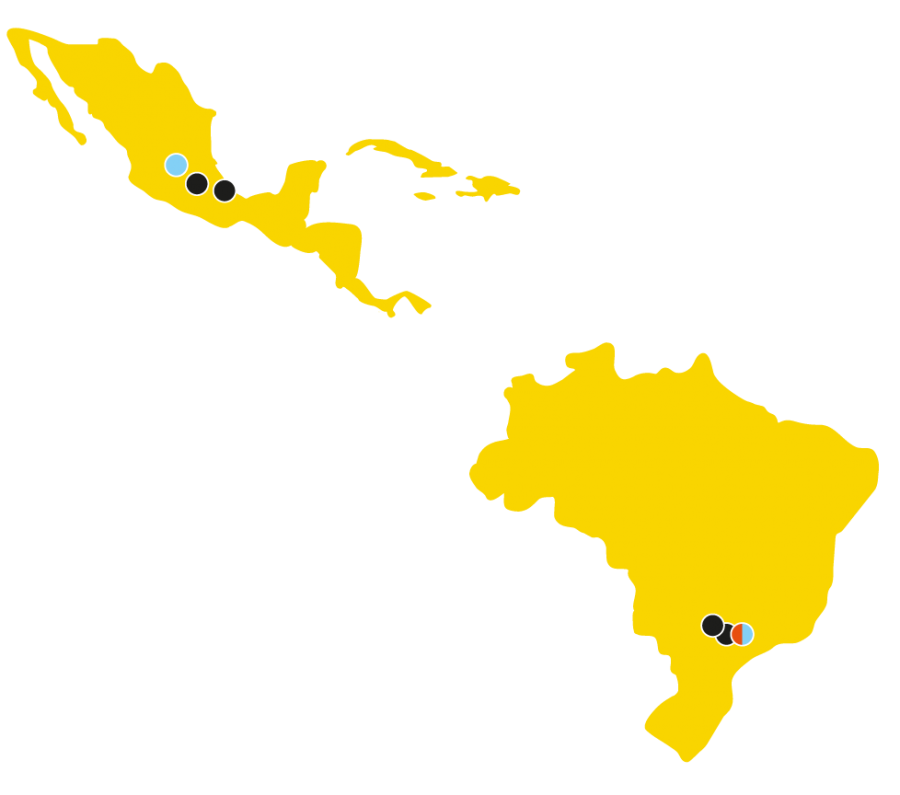 Regional Office
Sales Office
Manufacturing
Brasil
The AB Brasil head office is located in Sã​o Paulo and the manufacturing locations are at Pederneiras and Sorocaba. Pederneiras is an impressive and high quality factory producing both fresh and dried yeast, and a complete line of pre-mixers and bakery ingredients. Sohovos, at Sorocaba, is the leading manufacturer of egg products in Brasil. It is a pioneer in egg product production; including liquid, powder and frozen eggs. Research and Development facilities, including a full test-baking laboratory, are located near the head office in the city of Jundiai.
São Paulo (Regional Office)
AB Brasil Indústria e Comércio de Alimentos Ltda.
Av. Dra. Ruth Cardoso, 7221 – 11º floor
Pinheiros
São Paulo – SP
CEP 05425-902
Brasil

Tel: +55 11 3038-1800

Sorocaba – Sohovos,
AB Brasil Indústria e Comércio de Alimentos Ltda.,
Av. Itavuvu, 4691 – Jardim São Camilo,
Sorocaba – SP,
CEP 18078-003,
Brasil

Tel: +55 15 3226-9006

Pederneiras,
AB Brasil Indústria e Comércio de Alimentos Ltda,
Av Tietê, L-233. Barranca do Tietê,
Pederneiras – SP,
CEP 17280 – 000,
Brasil

Tel: +55 14 3283 8032

Jundiai (Research & Development),
AB Brasil,
R. João Batista Figueiredo, 250.,
Cep: 13201-848 Jundiaí – SP – Brasil,

Tel: +55 11 2136-0560