Europe
Our commitment to brands, technology and infrastructure in Europe remains continuous and active.

Through our brand promise "We Know Baking!" we know at AB Mauri that in each country, the local idea of the 'perfect' bread, cake or other bakery products varies.
From our operating companies throughout Europe we supply Yeast & Bakery Ingredients from our BI & Yeast factories, through dedicated Country business teams covering all product ranges and serving the many and varied bakery applications.
AB Mauri supplies yeast and a full range of bakery ingredients such as improvers, mixes (cake & bread pre-mixes), preservatives and many more to the traditional bakery sector as well as the fast growing mechanised bakery sector including bakery chains, in-store bakeries and Quick Serve restaurants.
www.abmauriukandireland.com
www.abmauri.es
www.abmauri.pt
www.abmauri.fr
www.abmauri.be
www.abmauri.nl
www.uniferm.de
www.abmauri.it
www.mauri.com.tr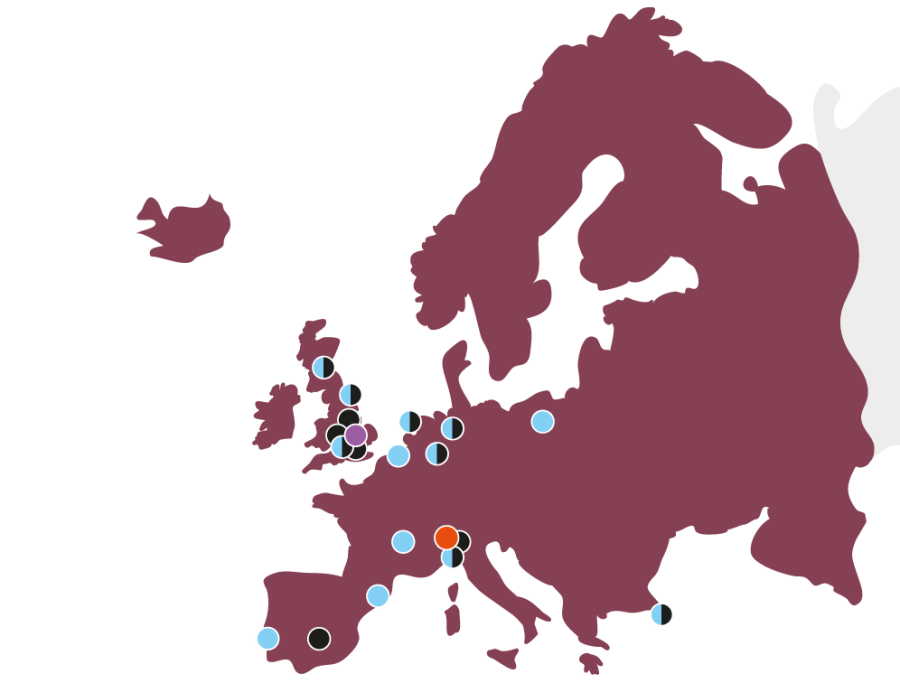 Global Head Office
Regional Office
Sales Office
Manufacturing
European Exports
AB Mauri also has a European Export team which is based in the Netherlands. A dedicated team services and supplies all European countries where AB Mauri does not have its own offices. In these countries a selection of AB Mauri's leading European bakery ingredients is offered as well as fresh yeast and dry yeast under the brands FLEISCHMANN and MAURIPAN.
AB Mauri European Export is represented in more than 15 European countries and cooperates with professional export partners, providing a high level logistic and technical support.

The AB Mauri European Export team also includes technical application and R&D staff dedicated to support European bakers in craft and mechanised to find ingredients and technical solutions to create successful, consumer preferred products.
AB Mauri European Export,
Mijlweg 77, 3316 BE Dordrecht, Netherlands,
Postbus 193, 3300 AD Dordrecht, Netherlands

Tel: + 0031 78 652 5607
Email: Info.nl@abmauri.com