Europe
Our commitment to brands, technology and infrastructure in Europe remains continuous and active.

Through our brand promise "We Know Baking!" we know at AB Mauri that in each country, the local idea of the 'perfect' bread, cake or other bakery products varies.
From our operating companies throughout Europe we supply Yeast & Bakery Ingredients from our BI & Yeast factories, through dedicated Country business teams covering all product ranges and serving the many and varied bakery applications.
AB Mauri supplies yeast and a full range of bakery ingredients such as improvers, mixes (cake & bread pre-mixes), preservatives and many more to the traditional bakery sector as well as the fast growing mechanised bakery sector including bakery chains, in-store bakeries and Quick Serve restaurants.
www.abmauriukandireland.com
www.abmauri.es
www.abmauri.pt
www.abmauri.fr
www.abmauri.be
www.abmauri.nl
www.uniferm.de
www.abmauri.it
www.mauri.com.tr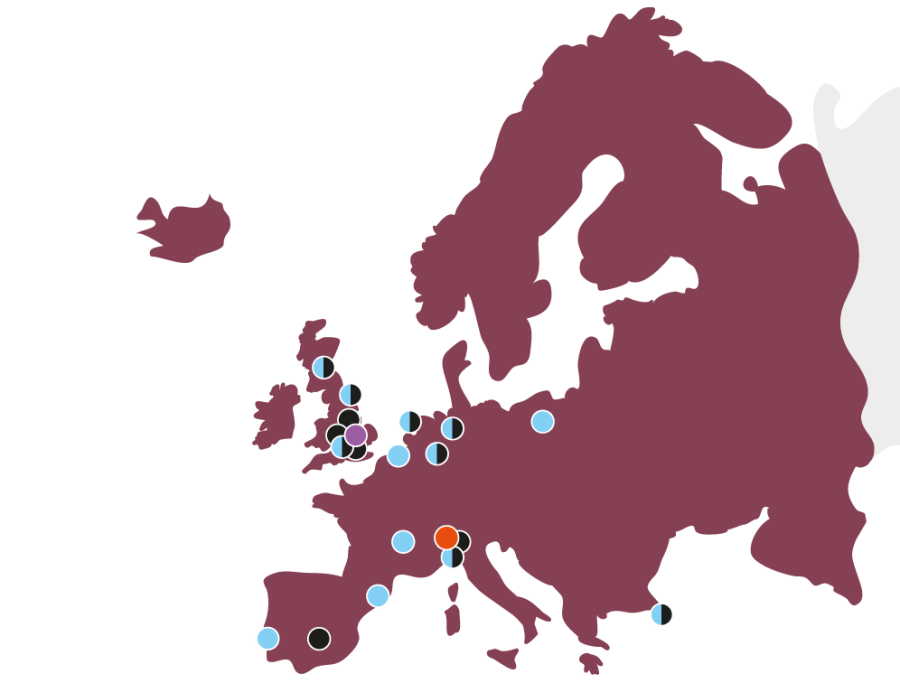 Global Head Office
Regional Office
Sales Office
Manufacturing
UK & Ireland
AB Mauri UK & Ireland is the leading technical bakery ingredients and yeast business in the UK and Ireland. It is well known for excellent technical expertise and customer service as well as an in-depth knowledge of bakery ingredients, formulation and product application. The business focuses on supplying bakers with yeast and technical bakery ingredients which meet agreed quality standards, performance criteria and cost parameters.
Bakery Ingredients are supplied under the Cereform brand, amongst others. Products include mixes and concentrates for dough, bread, cakes, donuts and other confectionery products. Further products include soya flour, toppings, fillings and icings.
The range of fresh liquid cream yeast and compressed block yeast is marketed under the Pinnacle brand.
Holgran and Fleming Howden were both acquired from Rank Hovis Milling Ltd by AB Mauri UK & Ireland in 2018.
Under the Holgran brand, malted wheat flakes as well as flour and seed blends are now also available to customers. Fleming Howden manufactures, sources and distributes a wide range of yeast and bakery ingredients; delivering excellent service to the Scottish Bakery Industry.
Head Office
AB Mauri UK & Ireland,
Barn Way,
Lodge Farm Industrial Estate,
Northampton,
NN5 7UW,
UK

Reception: for General Enquiries, Technical Support & Credit Control

Tel: +44 (0) 1604 755522
Email: info.ukie@abmauri.com

Soya Mill - Royston

AB Mauri UK & Ireland,
The Mill,
Kneesworth Street,
Royston,
SG8 5AH
UK

Tel: +44 (0) 1763 242128
Email: info.ukie@abmauri.com

Maltings - Gainsborough

AB Mauri UK & Ireland
Paddock Maltings
Bridge Street
Gainsborough
Lincolnshire
DN21 1LN
UK

Tel: +44 (0) 1427 613502
Email: info.ukie@abmauri.com

Powder Blending - Corby

AB Mauri UK & Ireland,
Brunel Road,
Earlstrees Industrial Estate,
Corby,
NN17 4SL
UK

Tel: +44 (0) 1536 208920
Email: info.ukie@abmauri.com

Yeast Factory - Hull

AB Mauri UK & Ireland,
Stockholm Road,
Sutton Fields Industrial Estate,
Hull, East Yorkshire,
HU7 0XW
UK

Tel: +44 (0) 1482 833133
Email: info.ukie@abmauri.com

Wholesale - Newbridge

Fleming Howden
Unit 2
Edinburgh Distribution Park
Cliftonhall Road
Newbridge
EH28 8PJ
UK

Tel: +44 (0) 131 333 6666
Email: fleminghowdensales@abmauri.com

AB Mauri Centre of Excellence

AB MAURI UK & Ireland
Corby Innovation Hub,
Bangrave Road South,
Corby,
NN17 1NN
UK

Tel: +44 (0) 1536 208920
Email: info.ukie@abmauri.com

Technical Support

Tel: +44 (0) 1604 755522
Email: info.ukie@abmauri.com

Customer Services

Tel: +44 (0) 1604 973630
Email: abm.orders@abmauri.com

Quality Assurance

Tel: +44 (0) 1536 208920
Email: info.ukie@abmauri.com