Europe
Our commitment to brands, technology and infrastructure in Europe remains continuous and active.

Through our brand promise "We Know Baking!" we know at AB Mauri that in each country, the local idea of the 'perfect' bread, cake or other bakery products varies.
From our operating companies throughout Europe we supply Yeast & Bakery Ingredients from our BI & Yeast factories, through dedicated Country business teams covering all product ranges and serving the many and varied bakery applications.
AB Mauri supplies yeast and a full range of bakery ingredients such as improvers, mixes (cake & bread pre-mixes), preservatives and many more to the traditional bakery sector as well as the fast growing mechanised bakery sector including bakery chains, in-store bakeries and Quick Serve restaurants.
www.abmauriukandireland.com
www.abmauri.es
www.abmauri.pt
www.abmauri.fr
www.abmauri.be
www.abmauri.nl
www.uniferm.de
www.abmauri.it
www.mauri.com.tr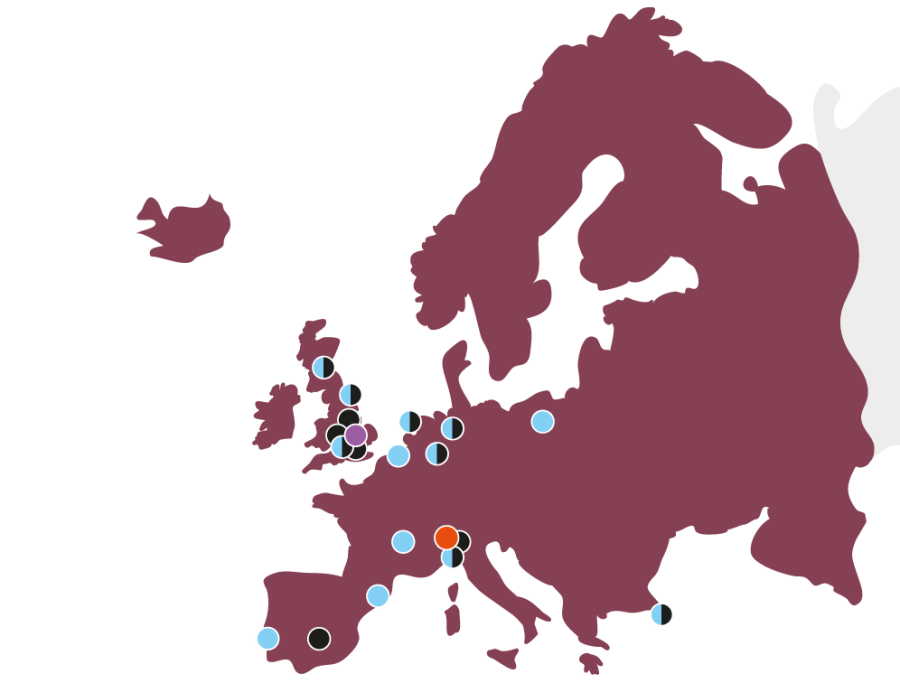 Global Head Office
Regional Office
Sales Office
Manufacturing
France & Benelux
www.abmauri.fr
www.abmauri.be
www.abmauri.nl
AB Mauri France is one of the leading yeast companies for French industrial groups, wholesalers and independent distributors. It thus works with areas of industrial pastry bakery (BVP), the bakery, GMS laboratories and other players such as millers, conditioners etc. Thanks to the merger with Gb Plange in 2014, it has also reinforced its leadership position as supplier of high quality bakery and pastry ingredients such as bread improvers, bread and viennoiserie mixes, pastry mixes and other pastry products.
In France AB Mauri's best known brands for the craft market are La Parisienne dating back to 1886, Levaréal, Mauri Original Europa for yeast and Fermiline,Tourneline and La Petrissé for ingredients. The industrial references for yeast brands are Mauri Extra Classic, Mauri Extra Osmo, Mondial and Royale.

Our knowledge of the local market, combined with our international expertise and our bakery skills enables us to offer the right products for the needs of bakers and industrials.

For industrials, our expert bakers are able to analyse your production processes with advanced technologies to better define and understand your requirements. Through its quality initiative, AB Mauri organizes in-house training, to enhance your knowledge of the fundamentals of baking, and optimize the performance of your business from the point of view of efficiency and profitability.

For distributors, our team is dedicated to help Wholesalers in Craft Market sales teams as well as bakery Chains and in-store bakeries for any technical and commercial assistance and offers all training and marketing support to develop and retain your sales.
Started as our Dutch yeast and spirit factory, we introduced the first special baker's yeast on the Dutch market. The brand Koningsgist® was in 1885 one of the first registered trademarks. After obtaining the title "Royal" and the formation of Gist-brocades in 1998, the company was acquired by DSM. After a short break-up, the yeast business was sold to AB Mauri in 2007 and the bakery business was sold in 2005 to Gb Plange, the companies are now back together as AB Mauri.
As a result of the acquisition of Gb Plange The Netherlands & Belgium in 2014, our offer has been enriched with a complete range of high quality bakery ingredients, as well as excellent technical application support in Improvers and Bread Mixes. Our knowledge of the local market, combined with our international expertise and our bakery skills enables us to offer the right products for the needs of bakers and industrials.

The Dutch plant in Dordrecht produces bakery ingredients not only for the Dutch & Belgium market but also for the rest of Europe. The offices of AB Mauri Netherlands and Belgium are working strongly together to join their forces in the Benelux market.

Our mission is "to offer solutions, develop skills and raise new technologies to improve the bakery ingredients, which help our customers to create added value in the market."
Driven by the passion for our profession and the thorough knowledge of yeast and bakery ingredients, AB Mauri is "the knowledge behind the art of baking."
AB Mauri France,
40/42 avenue Georges Pompidou,
69003 Lyon,
France

Tel: +33 (478) 623 243
Fax: +33 (478) 623 092
Email: info.france@abmauri.com
Email: industrie.france@abmauri.com

AB Mauri Belgium,
Industriepark 2 D,
9820 Merelbeke,
Belgium

Tel: +32 9232 4618
Fax: +32 9383 0511
Email: info.be@abmauri.com

AB Mauri Netherlands
Mijlweg 77
3316 BE Dordrecht
Netherlands

Postal Address
PO Box 193
3300 AD Dordrecht
Netherlands

Tel: +31 (0)78 652 56 00
Fax: +31 (0)78 618 50 88
Email: info.nl@abmauri.com