Europe
Our commitment to brands, technology and infrastructure in Europe remains continuous and active.

Through our brand promise "We Know Baking!" we know at AB Mauri that in each country, the local idea of the 'perfect' bread, cake or other bakery products varies.
From our operating companies throughout Europe we supply Yeast & Bakery Ingredients from our BI & Yeast factories, through dedicated Country business teams covering all product ranges and serving the many and varied bakery applications.
AB Mauri supplies yeast and a full range of bakery ingredients such as improvers, mixes (cake & bread pre-mixes), preservatives and many more to the traditional bakery sector as well as the fast growing mechanised bakery sector including bakery chains, in-store bakeries and Quick Serve restaurants.
www.abmauriukandireland.com
www.abmauri.es
www.abmauri.pt
www.abmauri.fr
www.abmauri.be
www.abmauri.nl
www.uniferm.de
www.abmauri.it
www.mauri.com.tr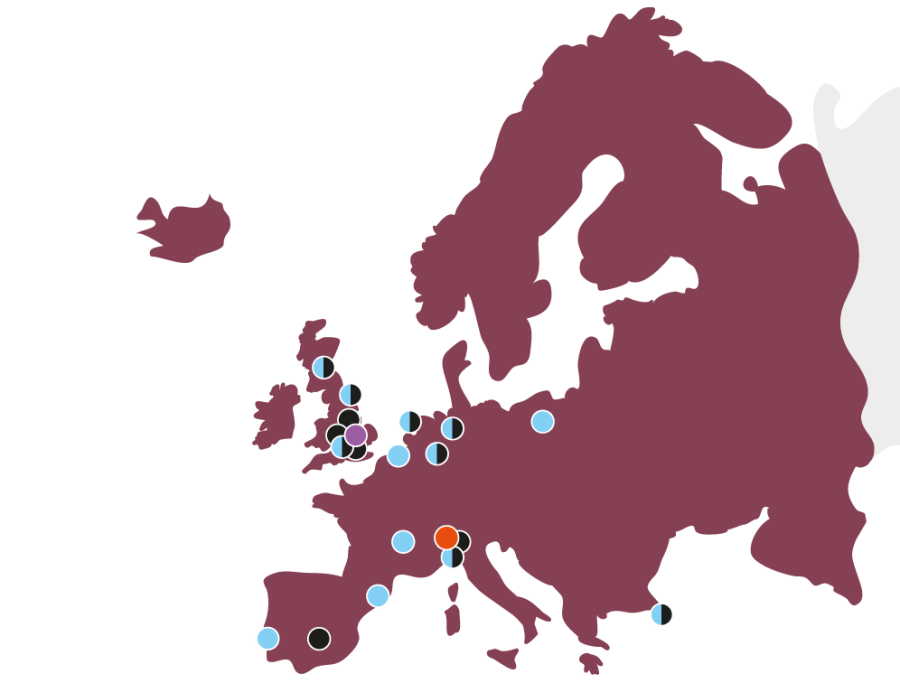 Global Head Office
Regional Office
Sales Office
Manufacturing
Italy
We are a leading yeast and bakery ingredients company both in bakery and speciality yeast markets. We aim at being the preferred customers choice by focusing on quality, service leadership, innovation and people development.
AB Mauri Italy has two sites: Casteggio for yeast production (the largest in Europe) and Cologne (Italmill S.p.A.) for bakery ingredients.
Markets
Our business operates in the bakery market, thus the Craft, Industrial, Retail, Horeca & In Store Bakeries channels as well as in other markets for speciality yeast applications.
Products
We produce several strains of yeast, for different applications, such as:
Bakery yeasts (fresh, dry and liquid)
Enriched yeasts for special purposes
Inactivated dry yeasts for animal feed formulations
Cream yeast for pharmaceutical purposes
Dry yeast for oenology & speciality yeast for the global alcohol beverage industry
Bioethanol yeast.
As a result of the acquisition of Gb Plange Italy in 2014 and Italmill in 2019, our offer has been enriched with a complete range of high-quality bakery and pastry ingredients, as well as excellent technical application support:
Improvers
Bread Mixes
Pastry Mixes
Pizza Mixes
Flour Mixes
Frozen Technologies
Ingredients (creams, chocolates, flavours, candied fruit, dried fruit, butter, margarine, jellies).
AB Mauri Italy S.p.A.
Via Mengoni, 4
20121 Milano
Italy

Yeast Factory:
AB Mauri Italy S.p.A.
Via Milano, 42
27045 Casteggio (PV)
Italy

Tel: +39 0383 8931
Email: ordinilievito@abmauri.com

Bakery Ingredients Factory:
Italmill S.p.A.
Via S. Pietro 19/A
25033 Cologne (BS)
Italy

Tel: +39 030 7058711
Email: ordinibakery@abmauri.com
Email: clienti@italmill.com