South & South East Asia
Our South & South East Asia business supplies yeast and a wide range of bakery ingredients to customers in India, Indonesia, Pakistan, Bangladesh, Japan, the Philippines, Vietnam, Thailand, Myanmar, South Korea, Malaysia, Nepal, Sri Lanka, Cambodia, Laos, Bhutan, the Maldives, Brunei and the Pacific Islands.
Our focus on customer service and the supply of consistent, reliable bakery products ensures that AB Mauri South & South East Asia is a company that bakers can trust.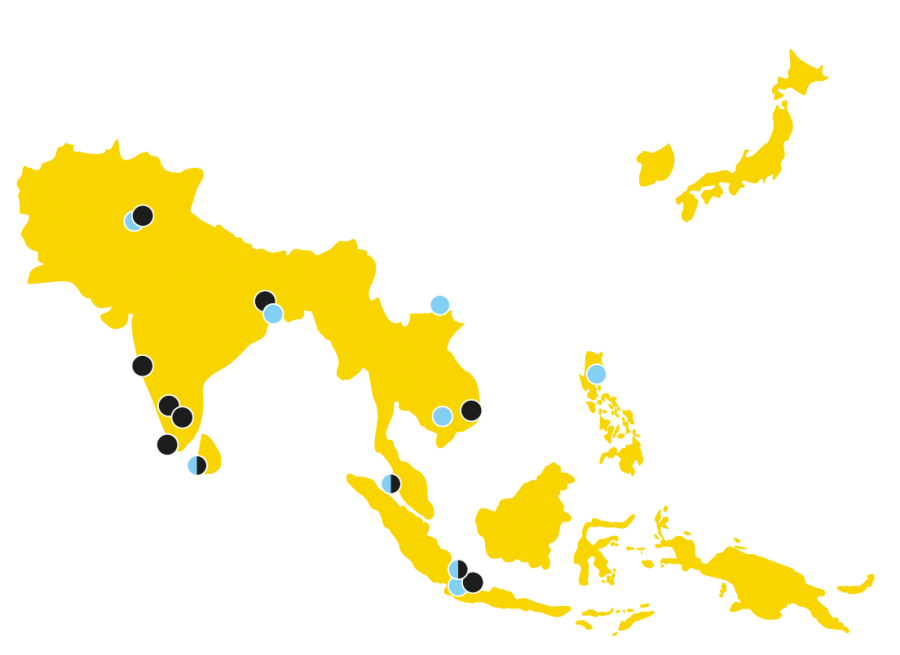 Sales Office
Manufacturing
India
AB Mauri's "Tower" brand has become one of the most trusted in India when it comes to bakery ingredients with high brand perception and loyal consumers. Our world class products have embraced the insights of our clients, consumers and internal teams to create inspiring products catering to Indian taste buds.
We have constantly enhanced our product portfolio and tapped into new markets and segments. In India we produce Yeast, Bread Improvers and Spices catering to both the domestic market and exported to Europe, MEA & Turkey, and the US. The company makes dynamic strides by continually innovating products such as wholemeal and multigrain bread mixes, muffin, sponge and brownie mixes plus an excellent non-dairy whipping cream substitute. Our diverse portfolio has helped us to become the preferred partners of Industrial and craft segments in India.
Indian market growth is expected to be very dynamic due to urbanisation, changes in lifestyle and the increase in consumers' disposable income. We have a dedicated presence of a Corporate Office, 5 Manufacturing Locations and 1 Local Sales Office in India to fully capture this potential.
By combining our multinational expertise with our deep roots in diverse local cultures, we're continuing to provide a range of products to suit a wealth of consumers. By focusing on our core competencies of consumer insight, research & development, and creative expertise, we continue to be an integral part in helping our customers drive consumer preference and grow the equity of their brands.
AB Mauri is an ISO 22000 / FSSC 22000, Kosher, Halal, FSSAI, ASTA certified company.
Corporate Office
AB Mauri India (P) Ltd
Worldmark-1, Village Maidawas, Sector 65,
Gurugram District
Haryana 122001

Tel: 0124-6191 700 / 701

Kolkata Sales Office
AB Mauri India (P) Ltd
Poonam Building, 8th Floor,
Flat No. 8D,
5/2 Anandilal Poddarsarani (Russel Street),
Kolkata - 700 071

Tel: +91-33-4006 2090 / 4006 2094

Chiplun Factory & Bakery Application Centre,
AB Mauri India (P) Ltd
D-7/2A, MIDC Area,
Lote Parshuram,
Taluka Khed,
District: Ratnagiri,
Maharashtra 415722,
India

Tel: +91 2356 272 675

Kalyani Factory,
AB Mauri India (P) Ltd,
Chandmari Moore,
P.O. Gayeshpur,
District: Nadia,
Kalyani 741234,
India

Tel: +91 33 2589 1684 / 2589 1806 / 6416 0874

Cochin Spices,
AB Mauri India (P) Ltd
Plot No. 24, Cochin Export Processing Zone,
Kakkanad,
Cochin 682030,
India

Tel: +91 484 2413 048 / 2413 068

Bangalore Factory
AB Mauri India (P) Ltd
Plot No. 218 & 219,
Bommasandra Jigani Link Road,
Bengaluru - 560105

Tel: +91 80 6191 7900

AB Mauri Innovation Centre
AB Mauri India (P) Ltd
Plot No. 218 & 219,
Bommansandra Jigani Link Road,
Bengaluru - 560105
Karnataka

Tel: +91 80 3079 7900